I was battling bronchitis and the medicine the doctor gave me didn't seem to help. My husband was sick before me and he got the IV therapy done and improved the next day So I went to see Kerstin for the same treatment and started to have more energy and felt better overall. She also squeezed me in last minute. She is AMAZING!
Shauna Rappenecker
2022-12-20
Kerstin was great!!!!!! I would highly recommend. My face looks and feels amazing.
Angelina Santos
2022-10-10
I stopped going to places for facials before, due to bad experience. But Kirsten restored my faith in the anti aging technology, she used. The procedure comes with a bit of pinch like pain, but she is so considerate and made sure I'm comfortable. She is easy to talk to and makes funny conversations! My skin is tighter, and clearer now in my middle age. Thanks Kirsten. More power to you, woman!
I have gone to Sinfully beautiful for MORPHEUS8 treatments, And I would absolutely recommend every one of them! The staff is friendly, knowledgeable, and always HAPPY! The interior is beautiful, and always spotless. I have done many treatment at other spa resorts and hands down the best one was done here at Sinfully beautiful 10/10 !
I cannot imagine a better, more positive, overall experience and outcome! The spa is comfortable, super clean and calm, and the entire staff is friendly and accommodating. Kerstin is the BEST! From consultation through procedure she is stellar. I'm incredibly pleased with the results, which are always as described, if not a little better. She is a dedicated, expert who clearly cares about her clients and her profession. Thank you Kerstin!
Robert Roozendaal
2022-08-31
I have never had any kind of treatment prior to my experience here. I went in for the Morpheus treatment. Kerstin was kind and patient while she explained everything to me. I would highly recommend Sinfully Beautiful for any treatment you may be interested in pursuing.
Shelly Grizzel
2022-08-16
I saw Kirsten for her Morpheus 8 treatment. I have completed my 3rd treatment and can't believe the continued results. She has extensive medical knowledge and answers all of your questions. Her treatment areas are immaculant, relaxing, and very clean. She is very kind and patient along with reassuring if you are a bit nervous. I will be booking more treatments with her and her SINFULLY amazing services.
Estella Camacho
2022-08-16
I came to Kerstin to have Botox done with a lip flip because I didn't have the best experience with previous lip filler. She listened to every request I made and gave her advice to what would look best. Let me tell you. I loved the results! She is amazing, professional, attentive and so sweet. I can't express how she is the best at what she does. Definitely recommend and will be back for more treatments.
This is my first time having a facial in 20 years because I never thought it was worth the money. I went with the ultimate facial as recommended. Kerstin was so nice and patient with all the questions I had and explained the whole process as she was working on me. All the equipment was clean and her place was immaculate. She is very knowledgeable too which helped me feel so comfortable. Definitely recommend. I'll be returning 🙂
Samantha Dymond
2022-07-10
My skin looks flawless and I did nothing different except get a facial from Sinfully Beautiful, so ladies (and gentlemen) if you want a professional, friendly service, this is the place to come!
Many people refer to Las Vegas as Sin City; America's Playground. The glistening lights of the Strip and the bustle of the casinos have their appeal, but sometimes, you just need to catch your breath and take a step back from all of that tumult and clamor.
Sinfully Beautiful caters to both Las Vegas and Henderson, NV, offering our services to a discerning clientele at reasonable prices. We're pleased to accommodate the needs of both locals and out-of-towners who are ready to treat themselves and look and feel their best.
Relaxation awaits as you pamper yourself with our wide range of beautifying and rejuvenating treatments.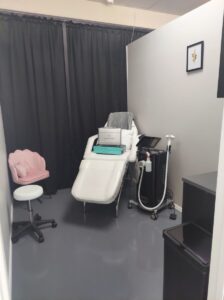 What Benefits Do Med Spa Treatments Offer?
If you're unsure about medical spa services because you've never tried them before, there's no need to be nervous. Kerstin Margiotti, our owner and operator, is a Board-Certified Nurse Practitioner who began her career in Emergency Medicine well over a decade ago. You can trust that you are in safe, capable hands when in her care.
Sinfully Beautiful is pleased to offer laser liposuction, ultrasound cavitation, microdermabrasion, cupping, and electrical muscle stimulation, also known as EMS. These non-surgical medical spa treatments are entirely safe and non-invasive, and you can enjoy them in a calming setting whenever is most convenient for you.
Our Med Spa Services Include:
Financing Available:

Are You Ready to Feel Sinfully Beautiful, Las Vegas and Henderson Residents?
If you're ready to try out a relaxing med spa experience, don't hesitate to contact us. We're waiting to bring out your inner beauty so you can showcase the most electrifying version of yourself. Whether weight loss, beauty, or youth restoration is your goal, we're confident we can set you on the path toward all of them.
We're also an inclusive environment that caters to all body types and walks of life. Our motto is "Be the Diamond in the Rough," and with our expertise and gentle, non-invasive treatments, we make that possible for you!