I got an IV drip with B vitamin boost and instantly felt recovered! Kerstin was completely professional, safe and friendly. I definitely found my secret weapon after a rough weekend or if needing a boost
If you're looking for nonsurgical treatments to rejuvenate your skin and body, this is the place to be. Kerstin is one of a kind. Everything is custom tailored to your skin & body needs. From the IV hydration, microdermabrasion, Botox & fillers my experience has been phenomenal! My health & well being are her top priority. There is no place or person I'd recommend more.
Kerstin is absolutely incredible! She takes her time and is extremely professional. Hands down the best results I've ever had from a Botox procedure! Will absolutely be going back to her for more procedures!!!
Peter Snovitch
2021-09-05
I Went to this company to get skin care treatment done and wow what a difference for the radio frequency with bio .. a few treatments made a world of difference , i work outside in the sun everyday and the differences i have seen is unbelievable.. highly recommend kerstin. She offers many services including Laser lipo, cavitation, EMS and cupping to name a few- the IV hydration works very well when your outside daily and need that extra BOOST!
I have had issues with acne, dry skin and discolored skin since masking for long hours in the ER. I finally got my acne under control with my BF's help. Yesterday, she and I went for Platinum facial's. I will admit I am not knowledgeable about all of the new skin care techniques and procedures. I choose the Platinum facial based on faith in the provider, to be honest. The whole process was both professional and comfortable. Kerstin made us feel so welcome with kind little extras and explained each step. Although there were a few pleasant and interesting sensations on the skin, there was no pain, neither during or after. I highly recommend the peppermint mask at the end. It felt tingly and refreshing and continued for a few hours. I was already impressed after the process because my skin looked and felt great, I dare say a bit like a baby's skin. I wanted to wait to see what my skin was like this morning before I wrote a review, well damn, my skin both looks and feels great. I do not typically post things and certainly don't post my picture on the internet bc I like my privacy, but I would highly recommend this facial. No redness, pain or drying this morning like I have experienced with other facials. I would take someone you love with you, male or female, they will appreciate it. I will be back for this treatment again. Thank you Kerstin we had a great time, and look Sinfully Beautiful this morning!
My experience with Kerstin was a great one! She is very communicative, gentle and professional. She did a little "wrinkle maintenance" for me and I highly recommend her! 🙂
Kerstin is amazing. She is extremely knowledgeable about each and every service she offers. I am extremely happy with the results I am seeing with my laser lipo and cavitation treatments. I was pretty nervous about trying these treatments but Kerstin was very empathetic about my anxiety and reassured me that I would be very happy with the results- and I am.
Rachael Dobrzynski
2021-07-10
I am not a stranger to facials but I have never done anything invasive or beyond a typical facial. After meeting with Kerstin at Sinfully Beautiful and discussing my concerns she suggested a few procedures including microdermabrasion. Kerstin was extremely knowledgeable and friendly. She explained what each procedure was and assured me nothing should cause discomfort or pain. She has an extensive medical background which is great! She was prepared with sanitized instruments and changed her gloves several times in between the treatments. I decided to purchase the Platinum Facial Treatment package which included an LED treatment, a deep pore cleansing with an ultrasonic tool, a collagen stimulating procedure (I don't remember the name of the device) , and microdermabrasion. The entire process was so relaxing! My skin has been glowing and I notice a difference in my texture! While my problem areas have come to the surface as to be expected, but I feel like with multiple treatments I am going to to be flawless! I am considering Kerstin for Laser Lipo and Cavitation. Don't hesitate to book with her now!
Fabrication Syndicate
2021-06-27
Had a recent back injury have been try to get back to 100%. Talked to sinfully Beautiful about the process of the ems service and decided to give it a try. Wow what a difference it made. Took the pain away and left me feeling so relaxed. Going to set it up as a regular thing. So happy I found this. They were super friendly and knowledgeable. Answered all my questions and concerns. Thank you thank you. Highly recommended. They have alot to offer so probably looking into some other services down the road.
Cazrine Marceaux
2021-06-23
LOVE LOVE LOVE! Kerstin is the absolute best! Very professional and knowledgeable! Answered all of my questions about the Laser lipo and led light treatments i got done! Had my first sessuon and i cant wait for another! Thank you thank you!
Many people refer to Las Vegas as Sin City; America's Playground. The glistening lights of the Strip and the bustle of the casinos have their appeal, but sometimes, you just need to catch your breath and take a step back from all of that tumult and clamor.
Sinfully Beautiful caters to both Las Vegas and Henderson, NV, offering our services to a discerning clientele at reasonable prices. We're pleased to accommodate the needs of both locals and out-of-towners who are ready to treat themselves and look and feel their best.
Relaxation awaits as you pamper yourself with our wide range of beautifying and rejuvenating treatments.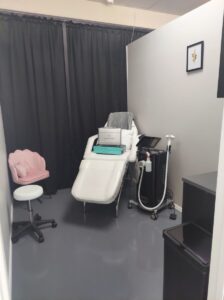 What Benefits Do Med Spa Treatments Offer?
If you're unsure about medical spa services because you've never tried them before, there's no need to be nervous. Kerstin Margiotti, our owner and operator, is a Board-Certified Nurse Practitioner who began her career in Emergency Medicine well over a decade ago. You can trust that you are in safe, capable hands when in her care.
Sinfully Beautiful is pleased to offer laser liposuction, ultrasound cavitation, microdermabrasion, cupping, and electrical muscle stimulation, also known as EMS. These non-surgical medical spa treatments are entirely safe and non-invasive, and you can enjoy them in a calming setting whenever is most convenient for you.
Our Med Spa Services Include:
Financing Available:

Are You Ready to Feel Sinfully Beautiful, Las Vegas and Henderson Residents?
If you're ready to try out a relaxing med spa experience, don't hesitate to contact us. We're waiting to bring out your inner beauty so you can showcase the most electrifying version of yourself. Whether weight loss, beauty, or youth restoration is your goal, we're confident we can set you on the path toward all of them.
We're also an inclusive environment that caters to all body types and walks of life. Our motto is "Be the Diamond in the Rough," and with our expertise and gentle, non-invasive treatments, we make that possible for you!